This appears to be the Dumpster and the White House Strategy
Sling Mud.. see if it sticks.. if not. sling some new mud and hope it sticks, but, when you are on lie #2.. after lie #1 has been shown to be a doctored tape and was a huge lie.. (never can trust what the WH or dumpster says.. they lie too much..
I doubt this lie will stick either.. but keep inventing reasons, you might find one that works eventually.. but I doubt it.. lol
The White House and Dumpster.. actually sound a lot like Saudi Arabia.. Just keep making it up. but at least SA, eventually does admit. yes we killed him.. but it was an accident.. we had nothing to do with that rogue assassination team.. etc.. etc.
c/p TWP

The White House is changing its tune on why it yanked Jim Acosta's press pass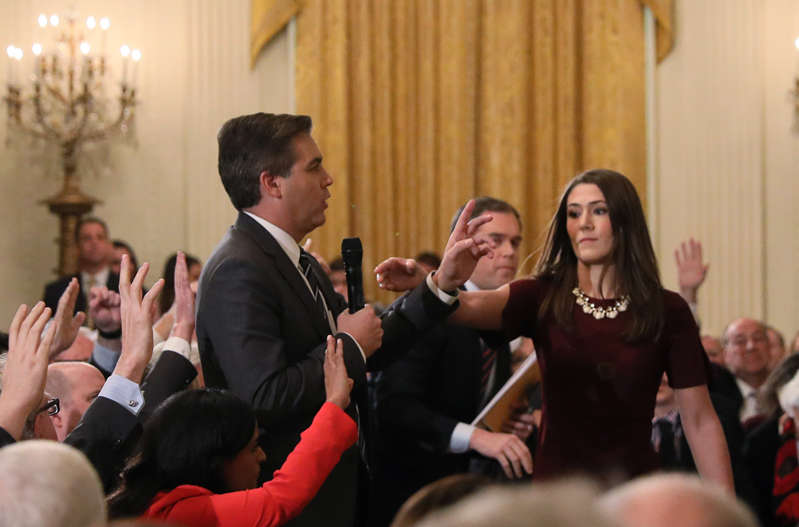 © Thomson Reuters A White House intern reaches for and tries to take away the microphone held by CNN correspondent Jim Acosta as he questions U.S. President Donald Trump during a news conference at the White House in Washington, U.S., November 7, 2018. Picture taken November 7, 2018. REUTERS/Jonathan Ernst (Picture 3 in a sequence of 15) CNN announced Tuesday that it will sue the White House over reporter Jim Acosta's press pass being revoked. Importantly, the White House now seems to be changing its tune about exactly why it sanctioned Acosta.
In a statement Tuesday morning, White House press secretary Sarah Sanders suggested that the decision was about Acosta refusing to yield the microphone while questioning the president:
We have been advised that CNN has filed a complaint challenging the suspension of Jim Acosta's hard pass. This is just more grandstanding from CNN, and we will vigorously defend against this lawsuit.
CNN, who has nearly 50 additional hard pass holders, and Mr. Acosta is no more or less special than any other media outlet or reporter with respect to the First dment. After Mr. Acosta asked the President two questions — each of which the President answered — he physically refused to surrender a White House microphone to an intern, so that other reporters might ask their questions. This was not the first time this reporter has inappropriately refused to yield to other reporters.
The White House cannot run an orderly and fair press conference when a reporter acts this way, which is neither appropriate nor professional. The First dment is not served when a single reporter, of more than 150 present, attempts to monopolize the floor. If there is no check on this type of behavior it impedes the ability of the President, the White House staff, and members of the media to conduct business."
But that's different from the initial justifications offered by the White House for revoking Acosta's press pass. Less than a week ago, it was primarily about him supposedly placing his hands on and getting too rough with an intern.
Sanders said at the time that the White House would "never tolerate a reporter placing his hands on a young woman." Only after that was mentioned did Sanders add as an addendum: "It is also completely disrespectful to the reporter's colleagues not to allow them an opportunity to ask a question."
The day after the altercation, White House director of strategic communications Mercedes Schlapp doubled down on the idea that Acosta was being punished for an alleged physical altercation.
"Look, I think it's important to show that Jim Acosta did place his hands on this White House staffer," Schlapp said on Fox News. "She's young, she was shaken up, she was intimidated by what Jim Acosta did. What we are seeing is bad behavior that cannot be tolerated and, in fact, there's been several reporters who have shared their viewpoints about — privately about Jim Acosta where he's being so disrespectful that other reporters don't have a chance to ask a question. This behavior is not going to be tolerated."
Again, Schlapp seemed to suggest that the alleged journalistic sin was secondary and that it was really about what Acosta did to the intern.
By this time, of course, it had been established that not only did the video of the incident not show Acosta placing his hands on the intern but that Sanders herself shared a doctored video of it that was sped up to make Acosta's movement look more aggressive than it was.
Faced with that evidence, Sanders on Thursday again defended the decision in the context of the altercation, rather than Acosta simply hogging the microphone.
"The question is: Did the reporter make contact or not?" Sanders said. "The video is clear — he did. We stand by our statement."
By Friday, President Trump himself was still litigating the video. "Nobody manipulated it. Give me a break," he said. "See, that's just dishonest reporting. All that p a close-up. See, that's just — that is just dishonest reporting. I watched that. I heard that last night. They made it close up. They showed it close up, and he was not nice to that young woman."
The new White House statement does say that Acosta "physically refused to surrender a White House microphone to an intern." But that's not accusing him of violence or placing his hands on the intern. That could simply be him refusing to let go. The statement is also completely different from the initial ones in its emphasis on Acosta's alleged journalistic sins.
So why no mention of Acosta's allegedly violent behavior in the latest statement? Possibly because the White House recognizes that, while the argument that Acosta was being violent might wash with the president's base, basically, no court would ever agree. The alleged assault simply isn't there, and the fact that the White House needed to use sped-up video — what can only be called propaganda — to bolster its point shows how shaky the foundations of the decision were.
That the White House isn't sticking with that justification when faced with legal action shows how dodgy it was to begin with.
__________________
Sat Locator
Getting Started In FTA
EPG & Channels
INSTANT VIP ACCESS
"When the Republicans stop telling lies about the Democrats, we'll stop telling the truth about them." --Adlai Stevenson
"When fascism comes to America, it will be wrapped in the flag and carrying the cross." -- Sinclair Lewis
F. Lee. Bailey - "Everyone has the right to their own opinions, but NOT their own Facts."
Martin Luther King - "what we have in this country is socialism for the rich and free enterprise for the poor."
Anything I discuss on the subject of satellites, is strictly, hypothetical and in theory, and on an educational basis. I do not condone, recommend, nor do I practice the theft of any signal from any Provider of Satellite signal, txsgent